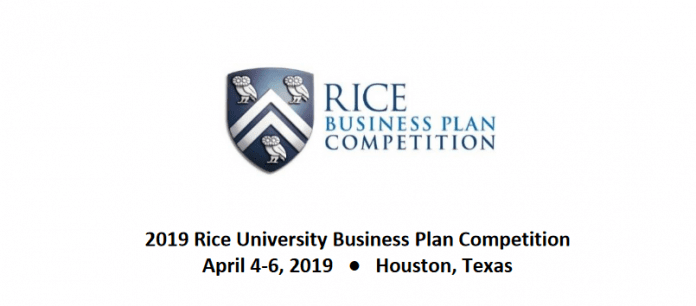 Application Deadline: Sunday, February 10, 2019 at 5:00pm CST.
The Rice Business Plan Competition is the world's richest and largest graduate-level student startup competition. It is hosted and organized by the Rice Alliance for Technology and Entrepreneurship, which is Rice University's internationally-recognized initiative devoted to the support of entrepreneurship, and the Jesse H. Jones Graduate School of Business. This is the 19th year for the competition. In that time, it has grown from nine teams competing for $10,000 in prize money in 2001, to 42 teams from around the world competing for more than $1.5 million in cash and prizes.
The competition is designed to give collegiate entrepreneurs a real-world experience to fine tune their business plans and elevator pitches to generate funding to successfully commercialize their product. Judges will evaluate the teams as real-world entrepreneurs soliciting start-up funds from early stage investors and venture capital firms. The judges are asked to rank the presentations based on which company they would most likely invest. 87% of judges surveyed considered investing in a team that presented at the 2018 RBPC or referred a team to a third-party investor.
RBC provide an unparalleled experience for the participants by designing a diverse program over the course of three-days; with significant time designated for feedback and interaction with the judging panel.
All teams will participate and present on all three days:
Thursday: Practice Round and Elevator Pitch Competition
Friday: First Round and Feedback Session
Saturday: Semi-Final Round, Wildcard Round and Final Round
How to Enter
One member of your startup, the designated leader, should complete the simple online application. The application consists of a answering a short survey, attaching an Executive Summary(maximum 5 pages), and including an optional Video Elevator Pitch(maximum 2 minutes).

Multiple student startup teams from the same school, institution or university center may apply to compete.

There is no limit on the number of applications per school.

There no feesto apply or to compete.Once an application is submitted, no changes can be made.

Submit your application online from the competition website: www.rbpc.rice.edu

The application must be completed by Sunday, February 10, 2019 at 5:00pm CST.

Teams invited to compete in the Rice Business Plan Competition will be notified via our Facebook Live video event and by email on Wednesday, February27, 2019.If you have questions about any aspect of the competition, please contact Catherine Santamaria, RBPC Director, at rbpc@rice.edu.
For More Information:

Visit the Official Webpage of the Rice University Business Plan Graduate-level Student Startup Competition 2019